Amazed skiers and snowboarders run into rare lynx in Colorado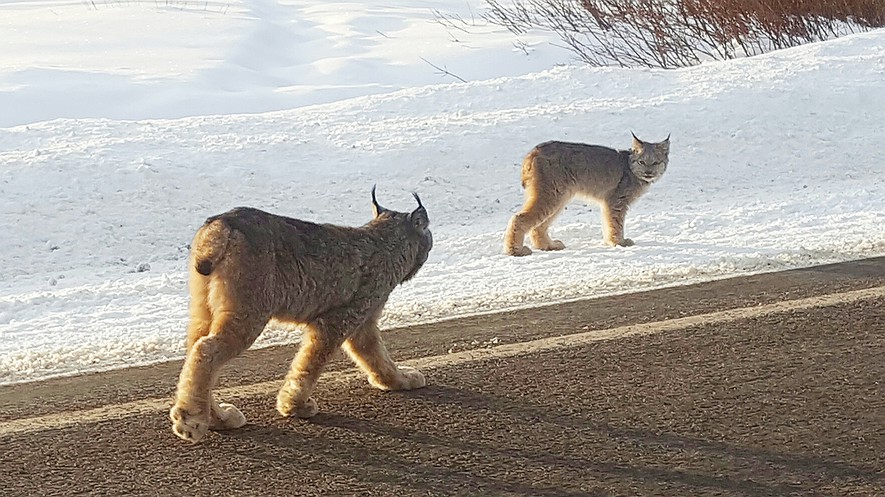 DENVER, Colo. — Colorado residents and visitors were treated to an uncommon sight this winter: a glimpse of the rare and elusive lynx. Videos of the beasts have electrified social media and have given biologists reason to smile.
One of the fluffy-looking cats strolled casually across the Purgatory resort in southwestern Colorado last week. It wove through a crowd of skiers and snowboarders, who crowded around the animal and tried to film it.
Two weeks earlier, a pair of lynx loped along a mountain highway a few feet from Dontje Hildebrand's car.
"My heart just about busted out of my chest when I realized what I was seeing," said Hildebrand. He was driving over Molas Pass, about 15 miles north of the Purgatory resort, when he came upon a female lynx and her kitten.
Rare Sighting Of Lynx In Colorado
Between 50 and 250 lynx live in the wild in Colorado, mostly in the southwestern corner of the state, biologists say. That's down from previous estimates of 200 to 300, but officials say this number has decreased because they have grown better at counting the lynx, not because there are fewer of them.
They are legally protected from hunters under the Endangered Species Act in every state but Alaska and Hawaii.
Lynx, native to Colorado, virtually disappeared from the state by the 1970s because of hunting, poisoning and development. The state brought them back starting in 1999, transplanting lynx from Canada and Alaska.
Lynx Can Grow To 3 Feet Long And 30 Pounds
The medium-size cats have tufted ears, short tails and broad paws that work like snowshoes, letting them walk across powdery snow. They can grow to nearly 3 feet long and 30 pounds.
Wildlife officials don't know exactly how many live in Colorado because they are so hard to find, said Joe Lewandowski, a spokesman for Colorado Parks and Wildlife.
A few people report seeing them every year, Lewandowski said. Unfortunately, those sightings don't help with the science of lynx reintroduction because they are anecdotal, or just based on what each person claims to have seen. "But it's encouraging," he said.
Survey Using Automated Cameras Document Where Lynx Live
The state documents where the animals live with a survey using automated cameras mounted in remote lynx country.
The sightings indicate the cats are getting comfortable in the high-altitude forests of southwestern Colorado, which are prime lynx habitat.
The lynx appearance at Purgatory on December 28 was unusual because so many people saw it, Lewandowski said.
Jim Russell was snowboarding that day when he and dozens of others watched the lynx mosey across a ski run.
"For being a wild animal, it was pretty surprising to see him so relaxed around people," Russell said.
A Diet Of Snowshoe Hares
He and others took cellphone video and posted it on social media, gaining broad attention.
"At first it kind of looked like a feral cat," Russell said.
But then he remembered seeing Hildebrand's photos of the Molas Pass lynx on the front page of a newspaper, he said, "and pretty quick I was able to identify it."
Lynx generally are not a threat to people, Lewandowski said.
They have calm tempers, they eat mostly snowshoe hares and they likely would not take on anything as large as a human. But they also are unpredictable, and people should never approach them or feed them, he said.
Join for a free account to read the full article.