President thinks kids spend too much school time on big tests
WASHINGTON, D.C. — Students spend much time taking tests. Just how many hours do they spend?
A. Between 10 and 15 hours.
B. Between 20 and 25 hours.
C. Between 30 and 35 hours.
If you chose "B," you are right. A new study looked at how much time students take tests. It found that eighth-graders spend between 20 and 25 hours a year taking tests.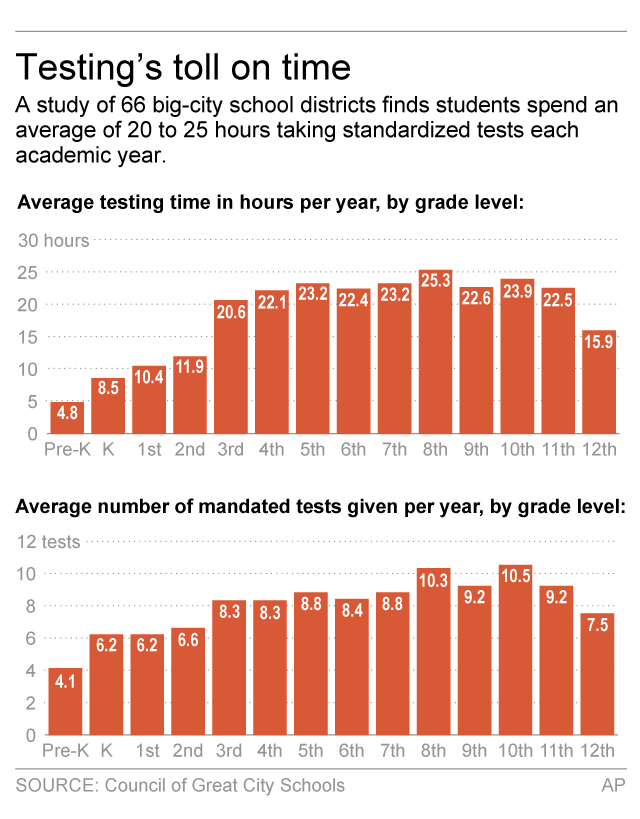 Between preschool and 12th grade, students take 112 exams. The government and states make students take some of the tests. School districts require others.
Tests Mostly At End Of School Year
The study counted only big tests. They are mostly taken at the end of the school year. It did not include quizzes or smaller tests.
The Council of the Great City Schools did the study. The council is a group of the biggest city school systems in the United States. The study looked at the number of tests in 66 large districts. More than 7 million students go to schools in these districts.
President Barack Obama spoke about the study. Students spend too much time on testing, he said. He thinks schools should limit testing. Students should spend a little less time taking tests.
Obama made a video, too. There are other more important things than getting the right answer, he said. Learning is more important. People should not worry so much about testing, he said. Obama's video was posted on Facebook.
Tests Make Sure Students Are Learning
The government still says yearly tests are important. The tests make sure that schools are doing good work. They also make sure that students are learning.
People wonder how much testing is too much. It is a hard question to answer, said Michael Casserly. He is the head of the council, which did the study.
The government's Education Department said kids take many tests. Some of them are not important. The department came up with a plan. It will work with states and schools. The goal will be to limit time spent on testing.
The council also discovered several important facts. Students in 8th and 10th grades took the most tests. Preschoolers, kindergartners and first-graders took the fewest tests.
Many schools had to wait a long time to get test results. Sometimes it took four months. By that time, the next school year already started. Teachers did not know in time if a student had a problem.
Join for a free account to read the full article.