Residents watch crumbling cliffs on California coast creep closer to homes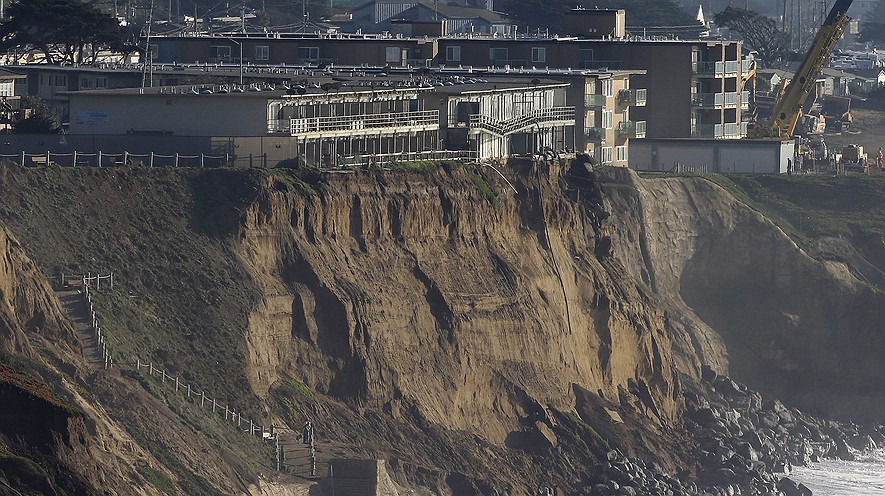 PACIFICA, Calif. — Sonja Thompson lives close to the edge of an 80-foot cliff above the Pacific Ocean. She can see the paragliders flying by. The area is a popular place for this sport. Paragliders jump from a high place attached to a wing and glide through the air.
Pacifica is also a great city in California for nature lovers. Last summer, many people enjoyed whale watching. They got to see dolphins swimming nearby more than 200 times.  
Last month some people who live there were greeted by an unhappy surprise. They came home to find yellow tags on their front doors. The tags said they had to move out. 
El Nino Battered Coastline
Pacifica means peaceful in Spanish. It is not very peaceful, though, when heavy rains and loud breaking waves hit the city. The El Nino weather pattern creates the big storms. They have hit the coastline hard.
The area is one of the two parts of California's coastline that are wearing away the most, said Patrick Barnard. He is a scientist who studies rocks and land on the coast. 
Sediment, a mix of stones and sand, has long been pulled into this area by watersheds. These low land areas catch rain. As the water flows away, it pulls the sand to another place. This brought more sand to the beaches. It protected the cliffs.
Barnard said that people have done things that moved sediment away from the Pacifica area. They made dams to hold back water. They used dredging to move sediment and sand from one place to another. 
The rising sea level has also made the problem worse. Barnard said the sea level will get even higher in the next 100 years. 
Crumbling Is A Longtime Problem
The Pacifica cliffs have been crumbling for many years. Photos taken from airplanes show this.
"We're not fearful of falling off," said Thompson, who lives in an oceanfront apartment. She thinks government workers will tell them to leave before buildings become a danger.
Lawmakers and government workers for the city are asking state and national governments for money to help the people in Pacifica.  
Still, many people in Pacifica feel abandoned. They must quickly find money to pay for moving and new housing. They are only allowed inside their old places during the day to pack.
Gordon King, a 73-year-old disabled man, lived here with his wife, Lana. 
"We've been fighting time," he said while packing their possessions.
The Red Cross gave them $250, but hotels nearby cost $200 a night. They will have to stay with friends until they can find a new place to live. 
Forced To Leave But Nowhere To Go
Jeff Bowman has the same problem.
"I have no job, nowhere to go," he said. Now 55, he is unemployed after being laid off from a job at a supermarket.
Bowman was paying $1,200 a month to rent his apartment. It was cheaper than other places in the area. The government partly paid the rent. 
"It should be my choice (to stay) rather than being told, 'You gotta go,'" he said.
Join for a free account to read the full article.