Warriors feel they're "just getting started" in winning NBA titles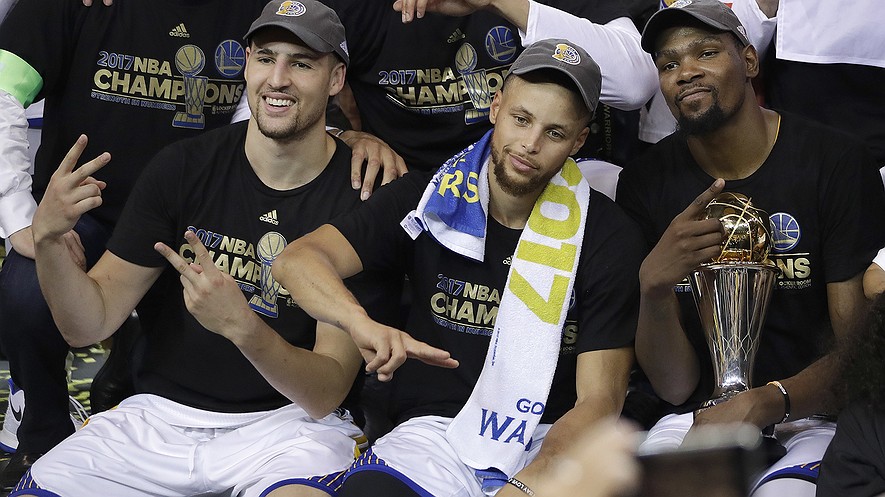 OAKLAND, California — Stephen Curry planned to celebrate later.
He was still wearing his sweaty uniform, ankle braces, knee pads and game shoes but, oh, there would be more partying. It might go on all summer long.
And if he and the rest of the Golden State Warriors have their way, it will be for years to come.
Curry, Kevin Durant and their teammates are determined to build a dynasty together — and they might just be well on their way. They might keep their winning ways going in a succession of championships. 
LeBron James believes so.
Warriors Win Second NBA Title In Three Years
It's two titles in three years for Golden State, including a fabulous first one with and for Durant.
"We're obviously just getting started," Curry said. His team closed out the Cleveland Cavaliers in Monday night's NBA Finals Game 5. "This is something that we want to continue to do, but for us to have these conversations that we had almost a year ago and now being in this position, worth every shot we took in practice, fighting through injuries that he had this year, and it's an unbelievable feeling."
The second NBA championship feels drastically different for Curry, because this one was a comeback from a heartbreaking missed opportunity last year against James and the Cavaliers. The Warriors knew they should have won it all but lost a 3-1 game lead.
Durant Captures His First Championship
As a rowdy crowd cheered at Oracle Arena, Curry watched freshly crowned Finals Most Valuable Player Durant capture his first ring. It is Durant's 10th NBA season.
"It's different just because of what happened last year to be honest," Curry said. "We went through, for lack of a better term, basketball hell in that sense of just being so close to getting the job done and not realizing that goal and having to think about that for an entire year."
He said they had to try to keep the right view about this season and "learn the lessons that we learned."
Coach Steve Kerr Bounces Back After Injury
Warriors Coach Steve Kerr cried. Golden State general manager Bob Myers also was moved to tears given Kerr's courageous Finals comeback from an 11-game absence while dealing with complications from back surgery following the 2015 title run.
Kerr still found time to crack a joke on the stage afterward, noting, "Well, we had very little talent, actually, it was mostly coaching."
Later, he was straightforward and serious, saying, "We were heartbroken last year, but this year was our turn."
Myers realizes adding Durant might not have worked so well with anyone but the Warriors.
Team First: "It's About Winning"
"Kevin's journey, our team embraced him. Some teams wouldn't embrace a guy who came into a situation like ours. It looks like it was easy, but guys like Steph Curry welcoming him and kind of let him shine — it worked out like it should," Myers said. "If you want to win, it doesn't matter. It's not about who scored what. It's about winning. I think he knew that. He won a championship, and then we were close and didn't win one. So you have a clear sense of what matters when you go through that stuff."
Now, the Warriors will face a frenzy of moves this summer to try to keep as many stars and brilliant backups as possible around for another run in 2018.
Big Contract Extension Expected For Curry
Owner Joe Lacob will be pulling out his pocketbook to potentially give Curry a $200 million deal. Whatever it is, the big-money contract will be a hefty raise from the $12 million he earned on the way to a 16-1 postseason.
Money aside, the Warriors blended beautifully from the day Durant first walked into team headquarters.
"I mean, come on, you got a bunch of guys who are talented and can shoot and pass and dribble, and they're unselfish," Kerr said. "There was never any question in my mind that this was going to work. So, this is the culmination of a year where they grew together and learned each other's games and got better and better all year, and it was just phenomenal to be part of."
One moment late Monday captured the friendship that evolved between Durant and Curry. As a grinning Curry held daughter Riley in his arms, Durant stood next to them with his left hand on the point guard's head.
Later, the two-time reigning Most Valuable Player took off his new NBA champions hat and studied it briefly before pulling it on again, backward.
The Curry And Durant Show
Curry had Durant to complement his playing this time, to take some pressure off. They learned from each other every step of the way and pushed one another through fierce shooting competitions that were pure entertainment on a practice floor.
At the start, Curry took a back seat to let Durant get comfortable. Then Curry carried Golden State while Durant healed from a left knee injury that had him on the bench late in the regular season.
"Steph definitely took a back seat to start the season until he realized we didn't need him to take a back seat, we need you to be aggressive as you're going to be," Warriors forward Draymond Green said. "And when Steph turned that corner, I think it was after Christmas Day, when he turned that corner, we became almost unbeatable."
Join for a free account to read the full article.